At long last, construction of the NEW Marshall Pet Adoption Center is in progress!
Architect Billy Ballow and Barry & Clay Construction were awarded the contract at a fixed price of $1,599,974, with completion estimated at the end of May, 2021. You can watch the progress yourself as the facility goes up, next to Marshall Junior High School on East Travis Street.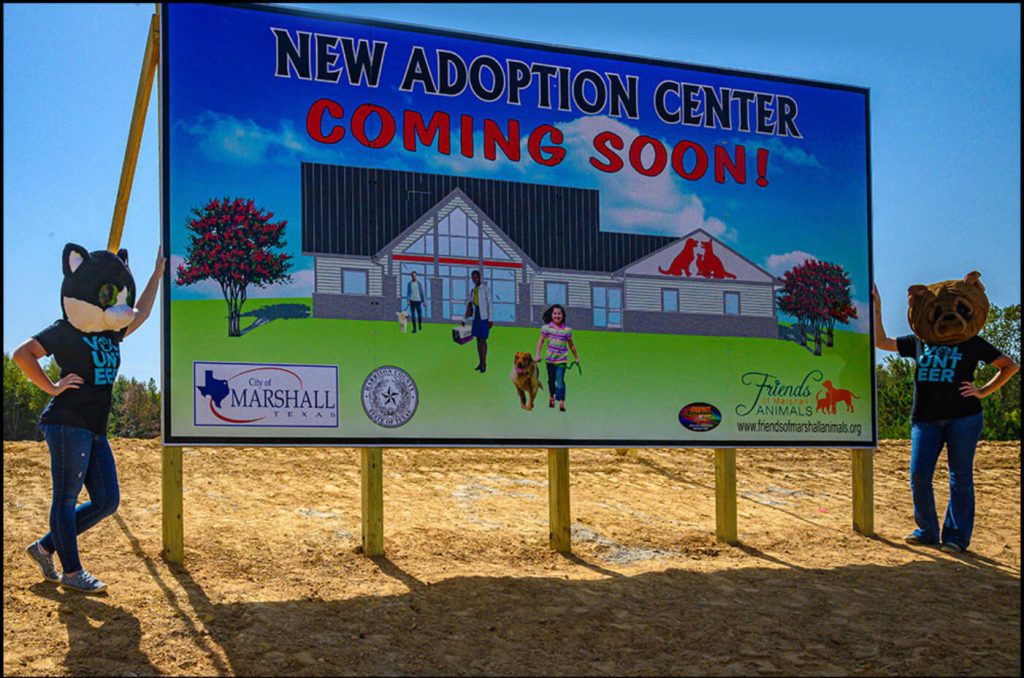 WILL YOU JOIN US IN MAKING THIS DREAM A REALITY?
We made a large commitment to fundraising for this project because it's important to build a facility we can all take pride in. We want it to represent a giant step forward for Marshall and Harrison County.
By partnering with the city and county, we can help ensure that the thousands of dogs and cats taken in annually will have a much better chance at being adopted. Simultaneously, thousands of animals will be spayed or neutered onsite, thereby tackling the single most critical issue underlying our homeless animal problem.
The citizens of Marshall and Harrison County love their pets and are concerned about the welfare of animals in our area. We know that you will want to be associated with this endeavor.
We have waited decades for this opportunity, and now is the time to act. We need your generous donation in order to reach our goal of $450,000.
We encourage you to consider the naming opportunities listed below. We have tried to make it possible for everyone to have a name memorialized at the new facility. A plaque with your name will be prominently displayed near the room or space you have chosen.
Frequently Asked Questions